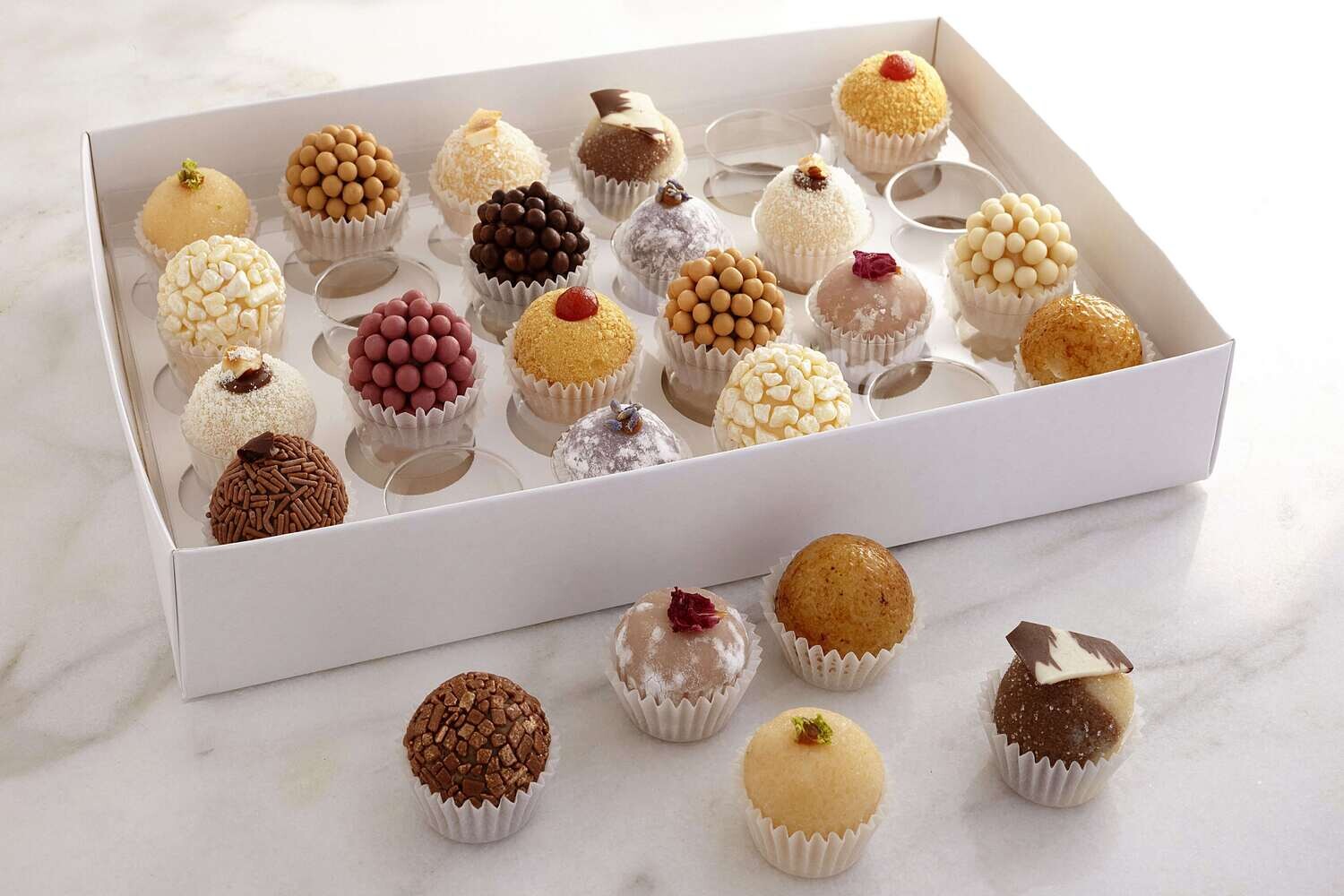 Sweet Joy Bites - Gourmet Brigadeiro Assortment
00054
Product Details
PRODUCT DETAILS: Make any moment an extra special one with our pre-assorted boxes, featuring our top picks! Our irresistible truffle assortments includes an array of all-time favorites, bursting with an array of flavors that may vary from order to order. Flavors may include: Guava Cheesecake, Creme Brulee, Cookies and Cream, Lime, Raspberry Tart, Dark Chocolate Crunch, Coconut, Orange Pistachio & More.
BEAUTIFULLY DISPLAYED: Our truffles are a mouthful of pure bliss! Garnished with beautiful finishes that are almost too pretty to eat! At Sweet Joy Bites we focus on flavors and textures that pair well for each truffle like orange and pistachio or raspberry and lemon. Crafted from beginning to end with the uttermost care and displayed in a timeless gift box that beautifully exhibits each truffle.
PURCHASE WITH CONFIDENCE: Sweet Joy Bites truffles are hand crafted with the finest premium quality ingredients to create its artisanal aesthetic and mouthwatering flavor profile. Our truffles are simply irresistible! Celebrate the beautiful moments in life with your loved ones with a box of our gourmet truffles they are sure to enjoy!
PERFECT FOR ANY OCCASION: Sweeten up life's celebrations with a box of truffles that perfectly complement any gift. From birthdays to holidays or "just because" days you can't go wrong with a box of pure joy!
PACKAGED WITH CARE: From our warehouse straight to your door, every box is assembled with our custom made packaging. Carefully developed to secure each individual truffle with its own dome to provide extra protection while in transit. Each order is then carefully boxed up, ice packed and placed in a thermal bag to maintain the quality and freshness of our product.
Notes: This assortment may include gluten and/or nuts. When selecting please specify any allergy restrictions

Save this product for later